Products with a purpose to empower
When you purchase on of the womens products,
you are helping them
and helping them help others!
Our Artisans In Bolivia
The Children's Institute or Centro Infantil runs each day of the week from 8-6 for children ages 0-7. It is supported by the Women's cooperative in Bolivia. It is intended for children whose parents cannot afford daycare and must work. Without this Centro, the children would be left at home to fend for themselves. Initiated in 1993 after a child in the community died from malnutrition, the center was opened with only 20 children. Since then, the centro has grown in attendance to nearly 200 children. They are taught integrated life skills, basic Spanish reading and writing, music, and math lessons in order to prepare for Kindergarten.
Maria Elena
"Since I entered the cooperative ministry, I have been able to afford chemotherapy in order to fight AND BEAT my breast cancer. I do not know what I would do without sewing. I have saved over the last seven years and was able to buy my children a computer so that they can have a better, more educated life."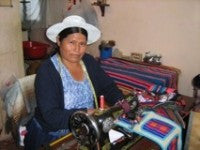 Cresencia
"I didn't know where to go for help and support. I had an infant and a toddler with no other family. This ministry was my family when I had no other family. I lived in the "campo" or impoverished rural region of the city and life was difficult. At that time, I was working washing clothes for $22/month. My rent was $15/month so I had only $7/month to support my children. The first time I was paid for my sewing by the cooperative, I bought my children milk. Since then, I have been able to save enough money to find safer living with a roof."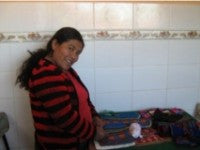 Petronila
"When I first joined the women sewing by faith, I did not know how to sew. I worked for a year learning to use a sewing machine.During that year, I just sewed by hand. When I got my first payment from the cooperative after the year of work, I used the money to buy a sewing machine for $120 so I could continue working to help the group. With my next payment, I bought a bed and my children were so happy. We had all been sleeping on the floor."
Our Artisans In Haiti
Asurene, Haiti Women Association, Premier Faustin, Port-au-Prince
In her video interview, Asurene explains that she is sewing bags and purses to support orphans that she has taken into her home to pay for their schooling and food. She was never able to have children and so she has taken in children from the street by herself.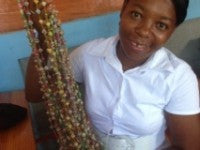 Elimene
"Making this beaded jewelry is fun work for me to do. With the money, my family is already eating better. I am happy Women Sewing By Faith came to Premier Faustin and I have a job."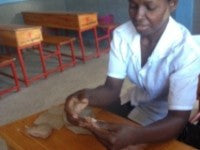 Asurene
"Since I started working with Women Sewing by Faith through the Haiti Women Association, I have been able to provide for the orphans staying in my home to ensure they have two meals a day and can go to school."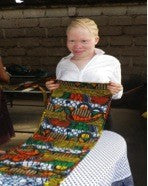 Judith
Judith knows that being out in the sun puts her at great risk of skin cancer, so she sews for Albino Peacemakers'. Judith is legally blind,like most people with albinism, and yet she insists on doing each part of the project herself, even threading the needle on the sewing machine.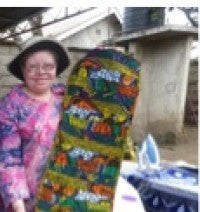 Sister Martha
Sister Martha Mganga, the founding director of Albino Peacemakers sewing cooperative has faced discrimination and abuses her whole life for being albino. She works to have money to support a pre-school for children rescued from working in the mines.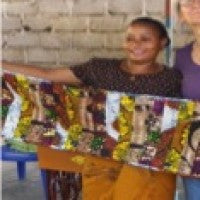 Mama Gifti
Mama Gifti has 3 children, newborn to 19, and Gifti is 13 years old and has albinism. The proceeds from her work help her feed, clothe, and educate her children.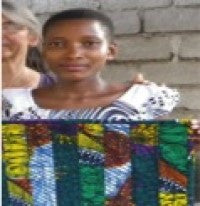 Arafa
Arafa Mshana is the "mwalimu", teacher, of the group. She uses her small salary to help support her mother and her brother Shabane, who has albinism and is attending university to become a teacher.